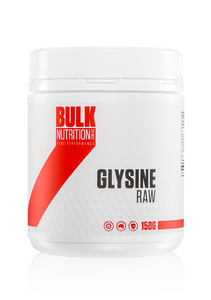 What is L-Glycine?
Glycine is as a non-essential amino acid which has been shown to support cell growth and reducing thebreakdown of muscle tissue. This makes it useful in helping to heal damaged muscles or rebuilding muscle tissue as well as recovery form injury.
L-Glycine has also shown abilities in removing toxins from the body including lactic acid, increasing endurance levels during exercise. Glycine is the primary component of collagen which makes up most of your connective tissues such as skin, tendons and ligaments, giving it the ability to aid in injury recovery. It may also increase the use and availability of growth hormone, enhancing recovery and muscle growth.
L-Glycine has also been shown to support the digestive system by assisting in the regulation of the acid-base balance in the digestive tract, as well as supporting the nervous system vis assisting in the production of essential neurotransmitters.
What are the benefits of L-Glycine?


Increased recovery post exercise and injury


Aids in toxin removal, increasing endurance during exercise


Enhancing muscle growth through stimulate of growth hormone


Supports the digestive and nervous systems


Who is L-Glycine suitable for?
L-Glycine is suitable for those looking to enhance recovery post injury or exercise, enhance muscle mass growth and potential as well as supporting the digestive and nervous systems. L-Glycine is essential for the production of DNA and RNA making it the perfect all rounder amino acid to supplement as a part of a daily dietary intake to support overall wellbeing.
BULK NUTRITION QUALITY REASSURANCE
---
As with all Bulk Nutrition products, this product is sourced directly from a BULK NUTRITION approved supplier. All our suppliers are rigorously audited to ensure that they meet our high standards and we routinely test products as part of our internal quality control procedures. We only work with the best Australian suppliers to guarantee our consistent quality.
In addition, all Bulk Nutrition products are packed in our very own, state of the art production facility that is operated to standards above and beyond our competition. This all combines to ensure that we deliver only the highest quality products to you, but, as always, at fantastic prices.

Disclaimer: Implied results may vary. Individuals will respond differently. Implied results assume an appropriate nutrition and training plan.
DIRECTIONS FOR USE:
Add 1 gram of powder (approx. 1 scoop) with 200mls-300 ml of cold water in a shaker bottle and shake for 10-20 seconds and consume
The product is useful before, during or after sustained strenuous exercise
Use in conjunction with an appropriate physical training or exercise program.
Not suitable as sole source of nutrition and should be consumed in conjunction with a nutritious diet.
The product may assist in supplementing the diet with a high energy source as may be required during training. Consume in accordance with directions and make sure an appropriate fluid intake is maintained. Store in a cool dry place below 30degrees Celsius and away from direct sunlight. Not suitable for children under 15 years or pregnant women